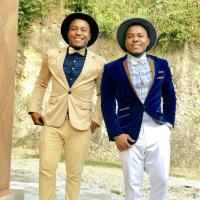 Biography of Les Jumeaux
Ils sont deux frères jumeaux, Diemson'n et Mackenson Fremont. Ils évoluent sous le nom Les Jumeaux depuis 2000 quand ils ont commencé à chanter. Basés à Port-au-Prince, ils sont originaires de la ville de Petit-Goâve. Certains pensent qu'ils sont du Cap… peut-être parce qu'ils ont « plus de fans dans la deuxième ville du pays ».

Après leurs débuts dans la chanson dans les années 2000, Les Jumeaux ont sorti leur toute première musique en 2012 titrée « Men nimewo a » avec la participation de Misty Jean. Cette dernière, pourtant, n'était pas présente dans cette vidéo dont une partie des images a été prise en Haïti, et une autre en République dominicaine. Les Jumeaux confient que cette vidéo leur a donné plus de views sur Youtube. Ils ont continué sur la même lancée, en offrant en 2013 leur méringue carnavalesque « Kalandriye Maya » qui a eu beaucoup de succès et qui les a fait connaître au public. C'est après le carnaval de 2014 sur lequel Jeafox a chanté que ce dernier a pu intégrer officiellement Les Jumeaux. Malgré toutes les rumeurs qui circulent, « Marassa yo » (Les Jumeaux) précisent que Jeafox fait toujours partie de l'équipe, même s'il ne chante pas sur leur dernière composition. Les Jumeaux ne se sont pas arrêtés là. Ils ont proposé ensuite « J'aime Haïti », chanson carnavalesque dans laquelle ils ont parlé de l'instruction civique qu'on n'étudie plus dans les écoles haïtiennes. Suivant toujours l'actualité, en 2014, lors de la Coupe du monde de football, ils ont produit la chanson « Ole » ; ensuite « Noël motivation » featuring Pastè Blaze. Les Jumeaux ont fait aussi une musique d'hommage à l'occasion de la mort de Jean-Marie Gabriel de l'émission Matin Caraïbes.

Les Jumeaux deviennent un groupe. Le plus grand projet de Les Jumeaux, c'est leur transformation en groupe full band : un batteur, quatre chanteurs (Diemson'n et Fremont Mackenson, Jeannel Renard a.k.a. Jeafox et Andy Noël alias Kolakenz qui vient d'intégrer l'équipe), un guitariste, un bassiste et un keyboardiste.
Musicians of Les Jumeaux (0)
Albums of Les Jumeaux (0)
Singles of Les Jumeaux
Update Required
To play the media you will need to either update your browser to a recent version or update your
Flash plugin
.
Is your Music listed above? You can Claim Copyright for Listen/Download access.
Preview this Band in Blog or Web Page
You can add a preview of

Les Jumeaux

in your Blog or Website page with only

1 single line of code

!
Show Code +
Copy and Paste the Code to your HTML page. Change the code to the desire height and width (Ex: width:250px; width=100%; height:200px;).