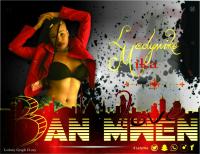 Biography of Ladymike
Micherlange Noël
Nom d'artiste : Ladymike
Nationalité : haïtienne
Née a PauP le 23 décembre 1994

Chanteuse ,danseuse , comédienne , diseuse , instrumentiste.

First Name:

Noel

Last Name:

Micherlange

Gender:

F

Birth Date:

Unknown
Singles of Ladymike
Update Required
To play the media you will need to either update your browser to a recent version or update your
Flash plugin
.
Is your Music listed above? You can Claim Copyright for Listen/Download access.
Preview this Musician in Blog or Web Page
You can add a preview of

Ladymike

in your Blog or Website page with only

1 single line of code

!
Show Code +
Copy and Paste the Code to your HTML page. Change the code to the desire height and width (Ex: width:250px; width=100%; height:200px;).