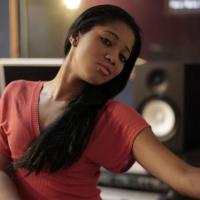 Roles: Vocal -
Instruments:

Unknown

Views: 1444
Biography of Shassy
Shassy, de son vrai nom Chasmaille Odéra est une jeune rappeuse haïtienne qui a connu le succès en 2012 avec son vidéoclip «M'ap Chat». Née d'une famille de cinq enfants Shassy est bien vite fascinée par le monde de la télé et de la musique. Elle interrompt ses études en terminale et se lance dans le monde du travail. Son style est un mixte de Rap et de Raboday, un rythme populaire haïtien. Shassy est connue pour les paroles osées de sa musique et ses tenues sexy tapent à l'œil. Ces éléments entres autres font pourtant d'elle un star des jeunes. Bosseuse, Shassy travaille de jour à la programmation dans une station télé et de nuit elle écrit de nouveaux textes et fignole de nouveaux tubes. Son inspiration lui vient de son quotidien et de celui de ses proches.
First Name:

Chasmaille

Last Name:

Odera

Gender:

F

Birth Date:

Unknown
Singles of Shassy
Update Required
To play the media you will need to either update your browser to a recent version or update your
Flash plugin
.
Is your Music listed above? You can Claim Copyright for Listen/Download access.
Preview this Musician in Blog or Web Page
You can add a preview of

Shassy

in your Blog or Website page with only

1 single line of code

!
Show Code +
Copy and Paste the Code to your HTML page. Change the code to the desire height and width (Ex: width:250px; width=100%; height:200px;).