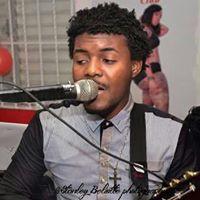 Biography of Zizou Guitare
Elisee Bonhomme aka zizou guitarist has a passion for music and also life saving crisis during the day he has his tetescope around his neck and on his relaxing time his guitar on hands his education journey started at national de vieux bourg d'àquin and continuously onto college eli Blaise de carrefour his passion continues with his studying onto Dominican Republic to become a doctor but yet he will not leave his passion for music aside meanwhile he went in to study at the university of Utesa and obtained his degree with Uniremhos .
Elisee Bohomme was born in St. Louis du sud in 1986 in a Christian oriented family .at the age of 3 he lived apart from his family until his adult life ,as it was mentioned his passion for music as oppose for medical ,he worked and performer with some very well known artist seeing is believing some of his work will be posted and his upcoming entertainment shall be the beginning or the continuous of a bright young artist.
First Name:

Elisee

Last Name:

Bonhomme

Gender:

M

Birth Date:

Unknown
Albums of Zizou Guitare (1)
Preview this Musician in Blog or Web Page
You can add a preview of

Zizou Guitare

in your Blog or Website page with only

1 single line of code

!
Show Code +
Copy and Paste the Code to your HTML page. Change the code to the desire height and width (Ex: width:250px; width=100%; height:200px;).